School
Welcome to a new era!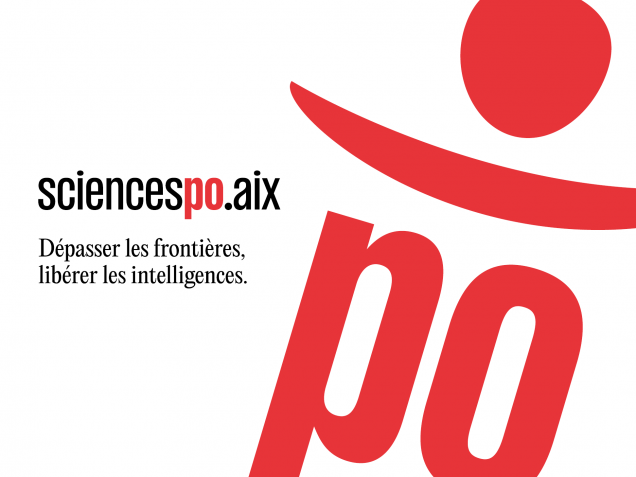 Proud of its history, in 2023, Sciences Po Aix affirms its values ​​and shapes its future through a new identity: a redesigned signature and slogan, an evolved graphic charter, recreated digital tools.
Tuesday 28 February 2023 – unveiling of the new graphic charter and digital tools.
A new identity
Signature
We live in a complex world. Our young people are facing major societal challenges and will have to make crucial decisions for the future.
This is why we can no longer be satisfied with conveying knowledge. We must also transmit a knowledge and ethics capable of enlightening and guiding the choices of tomorrow's decision-makers.
Our ambition is to enable our students to understand a world in full mutation, todare find answers to the challenges of our society and toact with a strong sense of ethics and responsibility.
To go beyond borders and to liberate intelligences.
---
Graphic charter
The idea? To preserve the spirit of the graphic charter designed in 2010 for Sciences Po Aix, and to rethink the School's visual identity, creating a modernised, dynamic and colourful universe.
The "Po", which places thehuman being andopenness to the world at the heart of our image, is now in motion. It takes flight to live independently of the SciencesPo.Aix logo and become a true emblem.
New typography has been added to clarify our messages, so that we can write, inform, underline or affirm.
Finally, you will discover that Sciences Po Aix can also, sometimes, go off the beaten track. Blue, pink, green, yellow… the School's graphic identity is now colourful!
New digital tools
Institutional website
Available in French and English, the new Sciences Po Aix website has been designed according to the School's new graphic charter. Bright and colourful, it offers visitorsnew features, clear information and a simple, ergonomic and intuitive browsing experience!
Take a guided tour of our school
Consult our training calaogue
Discover the portraits of students, teachers and alumni.
And don't forget to subscribe to our weekly newsletter!
Intranet
The Sciences Po Aix intranet has been designed as a personalised, ergonomic and friendly space, allowing students and administrative and teaching staff to :
discover news and events dedicated to them
access their digital workspace and the tools they use on a daily basis
consult useful resources and official documents
Login with your ENT login to discover your new space!
Mobile application
Sciences Po Aix launches its mobile application for students. Easy to use, it aims to simplify the daily life of the school's students.
Available on Android and iOS, the application allows you to
consult your personalised timetable
follow the school'snews and events
access various features: internship search platform, digital services, etc
Don't forget to activate the notifications, which will allow you to receive important information from the school in real time.
Download themobile application: