Services offered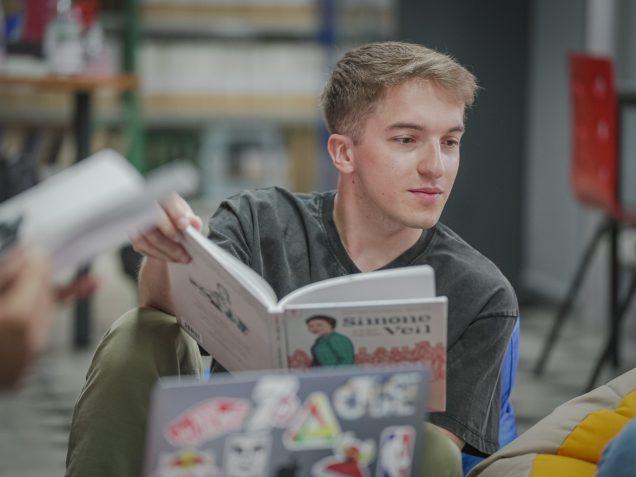 Register, consult, borrow
Registration is carried out at the lending desks on presentation of the student card for the current year or the school certificate. It is valid for one year and also gives access to the Aix Marseille University libraries as well as to electronic resources (on-site and remote). The library is open to all without registration. Home loans require registration and are available at the reception desks in the press and reading room.
The library consists of the press room (ground floor) and the reading room (2nd floor). The press room contains books on general culture and preparation for competitive examinations, as well as periodicals (newspapers, journals, magazines). We also offer a small area for relaxation, where you will find novels, comics, mangas and tourist guides. Traditional seats, armchairs and footstools are available to suit everyone's preferences.
In the reading room you will find collections in humanities, history, religion, philosophy, media and languages. Dictionaries and encyclopaedias are available in both areas.
Lending rights
| Reader category | Saporta Library | Research collection | Total number of books |
| --- | --- | --- | --- |
| Licence + Masters + CPAG | 10 items | 5 items | 15 |
| Doctorate + teaching staff + administrative staff | 10 documents | 10 documents | 20 |
The loan period depends on the type of loan linked to the document (single loan 7 days, single loan 14 days, renewable loan 14 days, renewable loan 21 days). Only revolving loans can be renewed by the reader. By consulting our catalogue, you can locate a document and check its availability.
Extending your loans
You can access your reader's account remotely at any time to manage your loans, suggest the purchase of documents…
Print, photocopy
A photocopier is available to the public in the press room. Photocopy cards are on sale in the main hall of the Institute (automatic distributor).
It is possible to print from a USB key.
Requesting an interlibrary loan (ILL)
The document you need is not in our library?
Consult the catalogue to see if it is in an AMU library.
Consult the SUDOC catalogue to see if it is in another university library in France: you can make an interlibrary loan (ILL) request.
To make your request, fill in the form.
The Interlibrary Loan (ILL) service can order your document from another library, in France or abroad. ILL requests concern documents that are not in the libraries of Aix-Marseille University.
This service is subject to a fee and is reserved for registered readers. Payment must be made by cheque to the Financial Service (2nd floor) before the document is sent.
The library that owns the document sets the conditions and duration of the loan to the user of the receiving library. Some documents can only be consulted on site.
Main rates* :
| Type of document | | Rates in euros |
| --- | --- | --- |
| Monographs | France | 6 euros |
| | Foreign | 10 euros |
| Photocopies | From 1 to 50 pages | 5 euros |
*supplier rates applied for certain libraries
**copyright compliant copyright : maximum 10% of a publication; 30% of the content of the article for periodicals
Borrowing a librarian
Want to (re)discover the library service and how it works? Discover and use the tools and resources available to you (catalogues, online resources, etc.) Make an appointment with a librarian for a half-hour session (or more if needed!) of personalised training adapted to your needs via the Affluences application. Introductory workshops on documentary research can also be offered (minimum of 5 people).
Obtaining a discharge
The discharge is issued by the library confirming that the applicant is in good standing with the library. It can be requested to constitute a transfer file to another higher education institution and is issued on request, provided that no loans are outstanding. Once the discharge has been issued, the applicant can no longer benefit from loans in the network's libraries.
You can make your request by e-mail to bibliotheque@sciencespo-aix.fr. Please include your surname, first name, date of birth and student number in your request. It is possible to generate a discharge request via your reader's account, but the document will be on the letterhead of the Service Commun de Documentation d'Aix Marseille Université.