History
Nicolas Badalassi
University teacher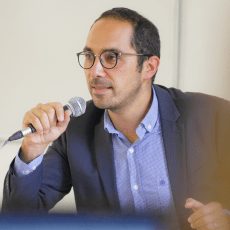 Nicolas Badalassi est agrégé d'histoire et Professeur en histoire contemporaine à Sciences Po Aix.
Spécialités :
Histoire de la Guerre froide, Sécurité et coopération en Europe et en Méditerranée, Politique étrangère de la France, des Etats-Unis et de la Russie, CSCE/OSCE.
Ouvrages :
The CSCE and the End of the Cold War: Diplomacy, Societies and Human Rights, 1975-1990 (en codirection avec Sarah B. Snyder), New York, Berghahn Books, 2008.
En finir avec la guerre froide. La France, l'Europe et le processus d'Helsinki, 1965-1975, Rennes, PUR, 2014.
Les pays d'Europe orientale et la Méditerranée. Relations et regards croisés, 1967-1989 (en codirection avec Houda Ben Hamouda), Les cahiers Irice n°10, 2013.